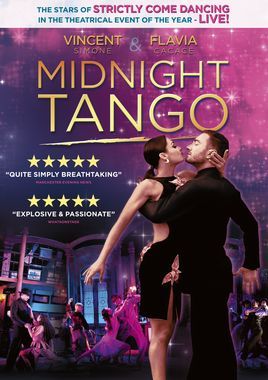 Tango world champions, Vincent Simone and Flavia Cacace, dazzle in this brand new live theatre event, deliverable in all formats.
Tango World Champions Vincent Simone and Flavia Cacace have dazzled TV and stage audiences for years with their stunning Tango routines. Now they have created their own live show – Midnight Tango – a breathtaking evening bringing all the drama, sensuality and elegance of this most exciting of dance forms to life.
Midnight Tango has just played 80 sold-out dates in the UK, seen by more than 180,000 people. The huge success of the tour has led to a confirmed 10-week London West-End residency, to begin January 2012. The show is produced by award-winning choreographer, Arlene Phillips.
Set in a late night bar in downtown Buenos Aires and featuring some of the finest Tango dancers in the world, Midnight Tango, takes you on a journey into a heart of this intoxicating city. As danger and excitement, joy and jealousy, pain and passion all combine – this is a spectacular and explosive show not to be missed!
Director: Colin Fay (Katherine Jenkins, Viva La Diva)
Producer: Arlene Phillips, Adam Spiegel
Cast: Vincent Simone, Flavia Cacace,