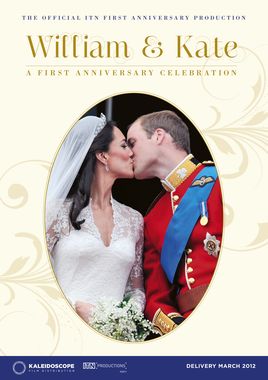 William & Kate: A First Anniversary Celebration
It was a fairy tale wedding watched by more than 2 billion people around the globe. But what has happened to the happy couple since the world stopped to watch this amazing spectacle?
William & Kate: A First Anniversary Celebration charts their life since their marriage on April 29th 2011, exploring their Royal engagements and private moments that have kept Britain and the world enthralled ever since. The Duke and Duchess of Cambridge are the very definition of a modern Royal couple, charming everyone they meet with their unfussy style, down to earth values and impeccable manners which have seen them charm everyone from 4-year-old cancer patients to Hollywood stars.
Featuring archive from the unrivalled ITN Source William and Kate is a celebration of a year in the life of the most talked about couple on the planet. How has Kate coped with going from virtual unknown to one of the most well known women in the world? Has William finally managed to overcome his mistrust of the press since Diana's untimely passing and embrace the role he was born to play? Does the smooth transition into royal duties show that the lessons of the past have been taken on board? Featuring interviews with royalty experts, friends and those that have had the privilege to meet them over the year we build a picture of their successful first year and speculate on their future moves – a royal heir, more official duties and becoming King and Queen.
Producer: Tracy Manners, Emma Read
Cast: Prince William, Duke of Cambridge & Catherine, Duchess of Cambridge