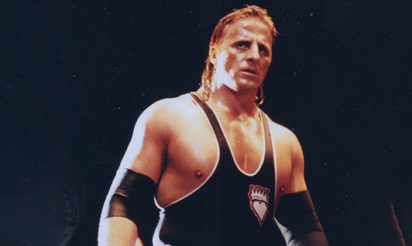 From the Producer of Pistorius and Mr. Calzaghe comes this astonishing life and death sporting tale of triumph and tragedy.
Owen Hart was a hugely popular WWE (then WWF) wrestling superstar when he tragically fell to his death during a televised ring stunt.  Now, discover the inside story of a champion who was destined to become a legend…
Owen Hart was a wrestling superhero like no other. Adored by fans and beloved by fellow wrestlers, he was the archetypal golden boy, playing the all-round American Hero.He had a beautiful wife, a young family he was besotted with and a promising career ahead as one of the WWEs biggest faces. What could possibly go wrong…?
On that fateful night in 1999, Owen was suspended eight stories above the squared circle, with a packed Kansas City auditorium below.Attached only to a $68 nautical clip, his character, 'The Blue Blazer' was supposed to fly into the ring.But afraid of heights and with his superhero cape getting caught in the harness, Owen tried to free himself, but instead, triggered the quick release…
Told in five enthralling chapters covering Owen's upbringing, rise to fame, his life away from the ring, through the pressure-cooker atmosphere of the WWE, and its increasingly outlandish storylines that eventually led to his death, Owen will feature wrestling legends including Bret 'The Hitman' Hart, Owen's close friend, The Rock, Mick Foley, Jerry 'The King' Lawler, Jim Ross, and many more.
Producer: Vaughan Sivell (Pistorius, Mr. Calzaghe), Keaton Stone, Jo Lewis
Cast: Dwayne Johnson, Bret Hart, Mick Foley, Martha Hart
Production Year: In Production | Delivery Q2 2023