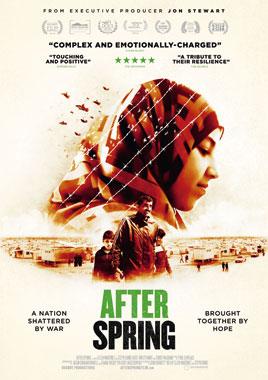 Set amidst the tragedy of the Syrian civil war, two displaced families battle to find hope, forgiveness and redemption in Zaatari:  the largest camp for refugees.
With the Syrian conflict firmly rooted in its sixth year, millions of people continue to be torn away from all they've ever known, fleeing the perilous war zone on their doorsteps.
After Spring is the story of what happens next; what it's like to live in Zaatari, the largest camp for Syrian refugees. Experience the pain, love and hope, as you follow the emotional journeys of two refugee families in their upheaval and transition, as well as the selfless aid workers fighting to keep the camp running.
Incredibly poignant and remarkably positive, After Spring delves into the unseen side of the Syrian conflict: the real communities affected by the vast destruction. These extraordinary people, who despite their horrific experiences, manage to not only survive – but thrive – against all odds, in the barren landscape which they have been forced to call home.
With no end in sight for the conflict or this refugee crisis, everyone must decide if they can rebuild their lives in a place that was never meant to be permanent.
Director: Ellen Martinez and Steph Ching
Producer: Jon Stewart and Chris McShane
Language: Arabic (English subtitles)