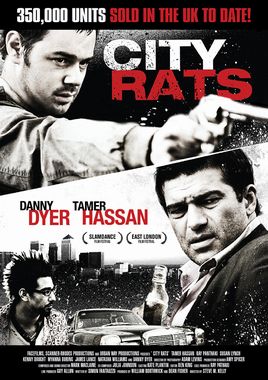 Over the course of one day in London's gritty East End, the paths of eight characters collide in ways that leave their lives forever changed
Danny Dyer (Dead Man Running, The Business, Football Factory) and Tamer Hassan (Cass, The Business) return to explosive form in the year's most highly anticipated Brit-flick.
City Rats tells the stories of eight people going through their own personal crises, whose lives are connected in some way. In one scenario, a man prepares to throw himself off a building when he spots a fellow suicidal on an adjacent rooftop. United by their suffering, the pair realise that there must be another way out. A down-on-his-luck artist finds inspiration in the unlikeliest of places–the prostitute living next door–but winds up paying a high price for her cooperation. Elsewhere, a gay man leads his deaf-mute brother-who also happens to be gay-through the streets of Soho in an effort to help him lose his virginity. Danny Dyer stars as a man whose shadowy past comes back to haunt him when the mother of an old friend approaches him for help in finding her missing son.
Welcome to the world of the City Rats where eight lives collide in a Pulp Fiction style blend that reveals London's true dark and twisted underbelly.
Producer: Dean Fisher & William Borthwick
Cast: Danny Dyer (Football Factory, Dead Man Running), Tamer Hassan (Layer Cake), Ray Panthaki (28 Days Later), Susan Lynch (Waking Ned Devine), Kenny Doughty (Titus)