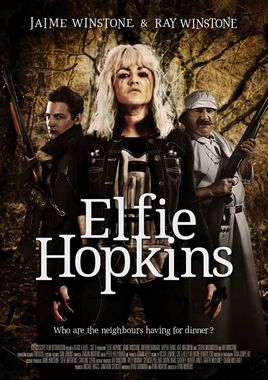 When a cannibal family moves into a quiet village, Elfie Hopkins and her best friend find themselves in a race against time to expose their secret and save their disappearing neighbours.
Set in a sleepy hunting village, Elfie Hopkins is the story of twenty-two-year-old slacker and "wanna-be" detective.  Elfie is a stoner and an animal lover in a village populated with hunters. Haunted by the death of her mother and surrounded by her broken father and alcoholic step-mother, Elfie seeks solace and inspiration from the old school detectives in The Maltese Falcon and Chinatown. She entertains herself, along with her geeky best friend, Dylan, by investigating the villagers and upsetting everyone with their imaginative allegations. Elfie's mundane existence is thrown for a spin with the arrival of a family of trendy city dwellers, the Gammons.
The Gammons weave tales of adventure and entice the villagers with offers of exotic hunting holidays around the world.  It's not long before the villagers are flying off to the four corners of the world. Elfie, despite her best efforts, is not immune to the Gammons charms, but soon smells a rat.  Elfie and Dylan snap into detective mode and investigate the Gammons life. Blood soon starts to spill in the village, and it's no longer just the blood of animals. Elfie discovers the villagers are not making those flights and when she finally uncovers the truth, its darker than she could have ever imagined. The Gammons are a family of cannibals!
Producer: Michael Wiggs & Jonathan Sothcott
Writer: Ryan Andrews & Riyad Barmania
Cast: Jaime Winstone (Made in Dagenham), Ray Winstone (Sexy Beast, 44 Inch Chest), Rupert Evans (The Boy, Man in the high Castle)