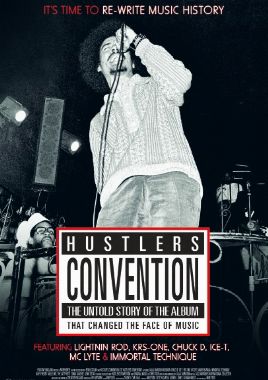 The story of rap's greatest lost album, an album which set in motion hip hop's evolutionary chain and inspired some of its greatest artists.
Hailed by Grandmaster Flash and Chuck D, sampled by the Beastie Boys, Wu Tang Clan, and Nas, Hustlers Convention was the foundation for todays hip-hop scene. This film tells of one of music's buried masterpieces: the missing link between soul power and hip hop, which gave its creator the right to claim his title as the 'grandfather of rap'.
Released in 1973 by original member of The Last Poets, Jalal Mansur Nuriddin, this documentary tells the story of two young hustlers who attend the eponymous convention, only to get tangled up in a shootout and police chase. It is also a tale within a tale of culture and identity, of ambition and greed. It gave the streets a voice, was recited in neighbourhoods word for word and still resonates with meaning today.
With original interviews including Jalal Nuriddin aka Lightnin' Rod, Ice T, KRS One, Chuck D, MC Lyte & Melle Mel, Hustlers Convention explores the forgotten roots of rap, and takes a closer look at how the album changed the face of music.
Producer: Mike Todd, Geseth Garcia, Quenell Jones and Lathan Hodge
Cast: Jalaluddin Jalal Mansur Nuriddin, Chuck D, KRS One, Fab 5 Freddy and Melle Mel