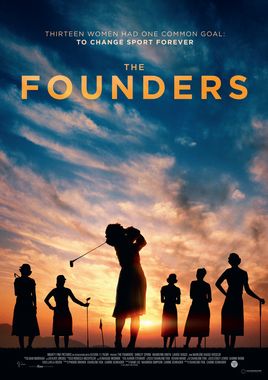 The iconic story of thirteen women who battled society, prejudice and preconception to create a lasting, global sporting legacy.
They were not supposed to be athletes. They were not supposed to get paid to play. They were not supposed to call the shots. But in 1950, 13 amateur women golfers battled society, finances and sometimes even each other to stake their claim to become professional sportswomen by creating the Ladies Professional Golf Association (The LPGA).
With humour, grit and raw talent, these underdogs not only changed the course of women's sport but created a timeless story of redemption and endurance. Through rare, archival footage, historical re-enactments and current-day interviews with surviving founders and leading players, we tell that story – a special legacy – in this feature-length documentary.
While their male counterparts drew adoring crowds and handsome purses for their athletic achievements, The Founders used money from their own pockets to stage tournaments in small, far-flung towns that questioned whether female golfers were even worth watching. Together, they logged thousands of miles a week just for the opportunity to tee off on courses they also had to groom!
Long overdue, this film is about finally recognizing those unseen efforts and identifying The Founders as true icons of sport and equality. The film isn't just for those who frequent the golf course. This film is for anyone who believes in the transformative power of defying the odds.
Director: Charlene Fisk, Carrie Schrader
Producer: Phoebe Brown, Charlene Fisk, Carrie Schrader
Writer: Maureen Simpson, Dana Lee Carrie Schrader
Cast: Louise Suggs, Babe Zaharias, Marilynn Smith, Shirley Spork, Marlene Bauer Hagge, Stacy Lewis, Karrie Webb